Visiting Artist: Anna Riley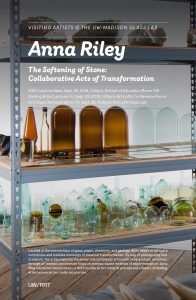 Anna will be in residence at the UW-Madison Glass Lab from Tuesday through Sunday. She will deliver TWO(!!) lectures and a hot glass demo in the Glass Lab. We hope you'll join us!
WIES Lecture
Wed, Sept. 26, 2018, 1:00pm, School of Education Room 159
In the spirit of experimental practice and collaborative learning, Anna Riley will discuss her series of workshops transforming raw materials into glass as a collective activity. These workshops explore glass as dynamic, full of physical and chemical reactions, and endeavor to reveal the permeability of glass—a material that appears inert and immutable but is vibrant and alive in our architectural and ecological environments.
Glass Lab Visiting Artist Lecture
Fri, Sept. 28, 2018, 1:00pm, Art Lofts Conference Room
Located at the intersections of glass, paper, chemistry, and geology, Anna Riley will discuss her studio art practice, which centralizes and isolates moments of material transformation. By way of photography and sculpture, the artist captures the power and complexity of transforming geologic materials through an intense and intimate focus on process-based methods of experimentation.
Hot Glass Demonstration
Fri, Sept. 28, 3:00pm, Art Lofts Glass Lab
Anna Riley will do a hot glass demonstration involving experiments with molten glass and mica.
---
Visiting Artist: Rui Sasaki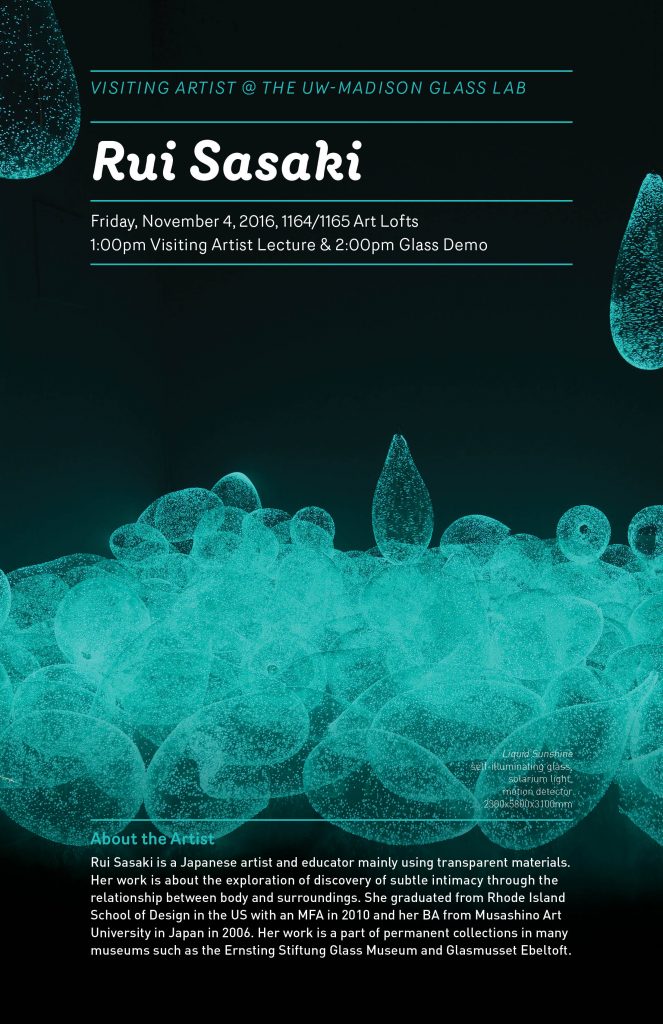 Rui Sasaki will be visiting the UW Glass Lab Friday, November 4th.
Visiting Artist Lecture: 1:00pm, 1164 Glass Lab, Art Lofts, 111 N. Frances St.
Glass Demo: 2:00-5:00pm, 1165 Glass Lab, Art Lofts, 111 N. Frances St.
---
gl@ss: Exhibition and Hot Glass Event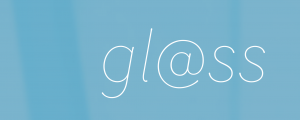 Opening Reception and Hot Glass Event
Friday, Oct. 28, 2016, 7-9 PM
October 28 – November 3, 2016
Art Lofts Gallery and Glass Lab
111 N. Frances Street, Madison, WI 53703
An exhibition of work by advanced and graduate students, gl@ss will explore language, communication, and other themes that Glass Lab students have been exploring in glass and various other mediums.
In addition to the opening reception of this show, Mad Gaffers (UW's student glassblowing club) will be putting on a live Hot Glass Event, wherein the audience can be an active part of the event. Roasting food at 1000°F and playing word games with hot glass, as well as being part of a live glass blowing performance, UW-Madison and our surrounding community are invited to be a part of this unique experience!
Artists: Joshua Burazin, Tyler Gordon, John Hallett, Matthew Jacob, Jason Kartez, Anna Lehner, Samuel Merkel, Ben Orozco, Madi Potratz, Lauren Steinert, Heather Sutherland, Mary Thao
---
American Scientific Glassblowers Society Regional Meeting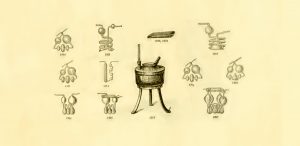 The UW-Madison Glass Lab is pleased to host the regional meeting of the American Scientific Glassblowers Society. The meeting will feature a keynote lecture by UW-Madison Professor Catherine Jackson, the first historian to tell the story of early 19th century chemist Justus Liebig, and the birth of scientic glassblowing via an apparatus called the kaliapparat.
In her lecture-demo, Dr. Jackson and Tracy Drier, scientic glassblower in the UW-Madison Chemistry Department, will share their route to this groundbreaking history and their plans for the future. Following the lecture, there will be a hands-on workshop, where ASGS members and Glass Lab students will create the kaliapparat on reconstructed 19th century torches. Technical flameworking and hot glass demonstrations will be ongoing throughout the afternoon and are open for the public to observe.
Register by Sept. 17th for a boxed lunch ($15) by emailing midwest-chair@asgs-glass.
An article on the event:
http://ls.wisc.edu/news/scientific-glassblowing
---
A Non-Crystalline History
Flameworking Workshop/Lecture
March 12-13, 2016
UW Glass Lab, 111 N. Frances St., Madison, WI 53703
Ever wanted to know what flameworking was like before Carlisle and GTT were around? What about before bottled oxygen? What about lampworking in a world before borosilicate? Glass Grad Tyler Gordon will be running a workshop that will include some short seminars on historic process followed by torch time on original and reproduction torches. Glass stock for the event will be furnace-pulled, 18th-century glass recipes with demos on the process. Contact Tyler Gordon at tagordon@wisc.edu if interested!
For more information: https://goo.gl/JTJ5HK
---
Glass Graduate MA Shows
We Are All Pink on the Inside
Heather Sutherland
February 21-25, 2016
Reception: February 25, 6-8pm
Humanities 7th Floor Gallery, 455 N. Park St., Madison, WI 53706
Exhibition of Mastery
Tyler Gordon
February 21-26, 2016
Reception: February 26, 6:00pm
Humanities 7th Floor Gallery, 455 N. Park St., Madison, WI 53706
---
Glass Graduate MFA Shows
Veils of Thought
Qiang Liu
April 18-23, 2015
Reception: April 18, 6-8pm
Art Lofts Gallery, 111 N. Frances St., Madison, WI 53703
Kill the Idiot, Save the Fan
Rory Erler
April 25-June 7, 2015
Chazen Museum of Art
Reception: May 14, 5:30–7 p.m., Paige Court
---
Visiting Artist: Susie Peck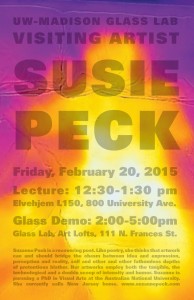 Susie Peck will be visiting us this Friday, February 20th.
Lecture: 12:30-1:30pm, Elvehjem L150, 800 University Ave.
Glass Demo: 2:00-5:00pm, Glass Lab, Art Lofts, 111 N. Frances St.
---
Stine Bidstrup: Spring 2015 Glass Lecturer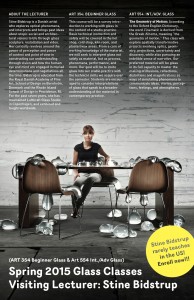 The UW-Madison Glass Lab is thrilled to welcome Stine Bidstrup (all the way from Copenhagen!) to our campus this Spring. She will be teaching the Beginning and Int./Adv. Glass Classes.
---
Graduate Applications are due January 5th!
The UW-Madison Art Department will be accepting graduate applications up through January 5th! We have confirmed funding for one first year Glass grad and ample opportunity for future funding. No minute like the last minute; apply now!
Graduate Glass Curricular Overview
---
Rory Erler: Chazen Prize Winner
Our hats off to third-year glass grad, Rory Erler, recipient of this year's prestigious Chazen Prize. This year's prize was chosen by curator Lori Waxman.